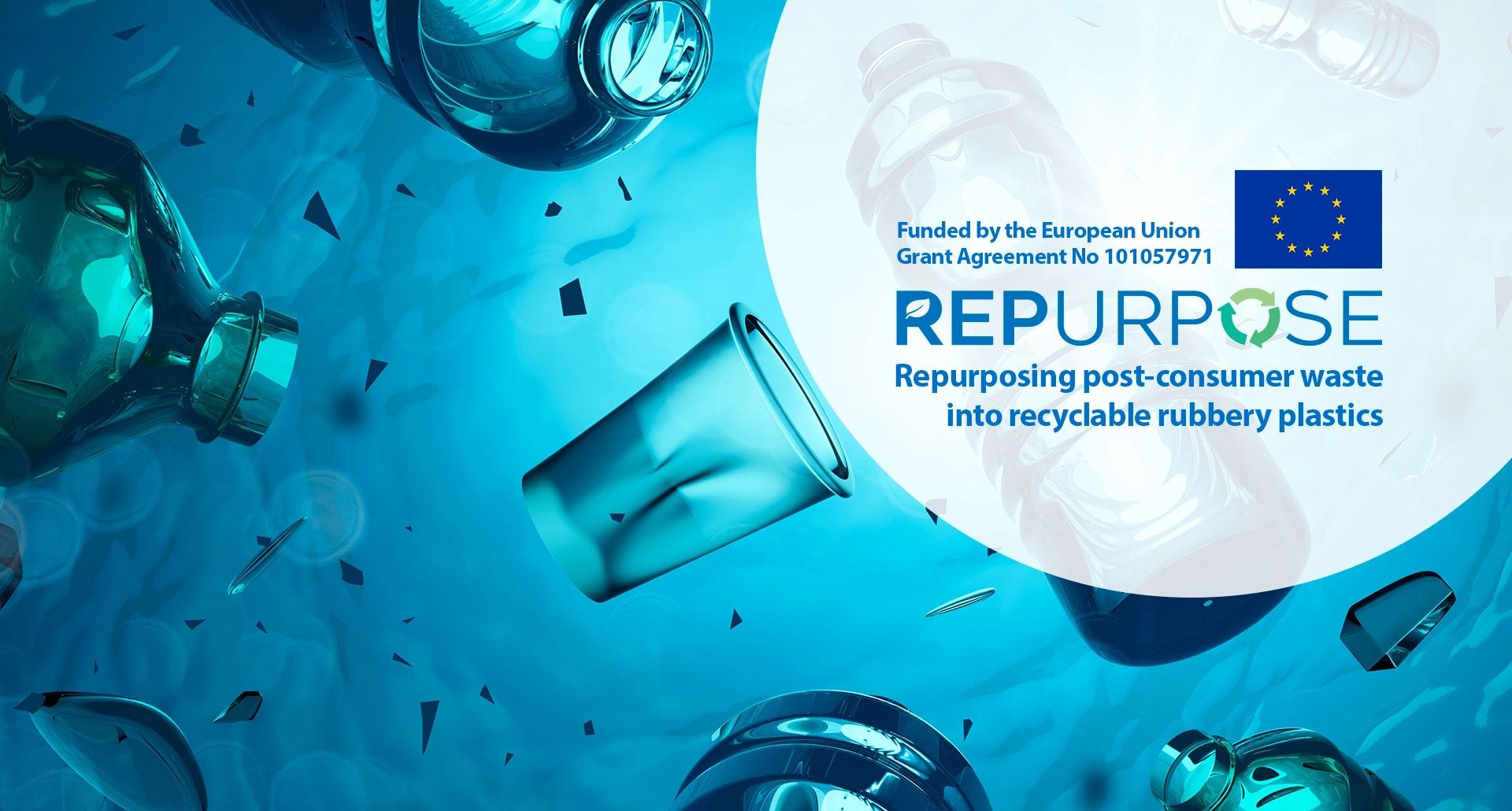 Rubbery plastics designed for recycling
REPurpose aims to develop a
Safe-and-Sustainable-by-Design
platform where local post-consumer waste is upcycled into new functional
REP polymers
for the thermoplastic elastomers high-value market.
What is REPurpose
REPurpose integrates the SSbD concept to create the world's first infinitely recyclable and additive-free rubbery materials, based on local post-consumer plastic waste and integrated with biocarbon to optimise properties for a broad spectrum of applications overturning new standards of cost-function-ecology. Advanced polymer backbone design gives REP polymers unique characteristics of biodegradability and infinite recyclability through enzymatic recycling.

Annual plastic production is close to 380 Mt and is expected to double by 2035 and even quadruple by 2050, making it essential to find new solutions to increase high-quality recycling. To achieve this mission, each product should be based on the concept of Safety- and Sustainability-by-Design to integrate safety, circularity and functionality from the initial design phase to the end of the life cycle.
How does it work?
Plastic waste, as part of the solution
Targeted biochemical conversion of local post-consumer waste streams as resilient, sustainable, and secure raw materials to form building blocks for the synthesis of innovative plastics
Safe-and sustainable-by-design plastics
Polymerisation of building blocks into REP polymers with adjustable functional properties for hard-to-recycle thermoplastic elastomeric applications without the need for toxic and polluting additives
First reuse, then effectively recycle and degrade
REP
products
are reusable or repairable via controlled disassembly through Design for Deconstruction. By building in specific breakpoints into the polymer backbone. REP
polymers
are endlessly recyclable and controlled biodegradable
Plastic waste, as part of the solution
A cross-sectoral value chain approach connects waste handlers, recyclers and detection experts, regulatory framework advocates, plastic producers, technology developers and end-users of consumer goods
With an investment of over 6 million euros REPurpose is a project funded by the European Commission through the Horizon Europe program (HORIZON-CL4-2021-RESILIENCE-01-11).
Coordinated by Bio Base Europe Pilot Plant (Belgium) it mobilises eleven companies, associations, universities from seven European countries and the UK.